Do you just start your dropshipping business and are you eager to find winning products to sell?
According to statista, the value of the dropshipping market size was forecast to grow to $476.1 billion in 2026. More and more people find this business model is profitable and want to share a piece of cake. But most of them don't know exactly what is a good dropshipping product and how to find dropshipping products. After reading this article, you will know and learn all of them to stand out from most of dropshippers.
It is a kind of ecommerce business that online store owners take charge of selling and dropshipping suppliers make the order fulfillment. In this business model, the online retailer receives orders from customers and places demands with dropshipping suppliers. And suppliers prepare products, check the quality, pack and ship them to customers. So the most important thing to make a successful dropship business is to conduct product research and find the best dropshipping products to sell online.
2. What are the best dropshipping products 2021?
It would be pretty challenging to find an excellent dropshipping niche from diverse kinds of products. But keep two points in mind and make things easier. At first, choose a profitable niche with demands. Besides, find a product which is suitable for shipping.
There are different product ideas for people who are beginners or have owned an online business for a long time.
If you don't have an ecommerce business experience, choose the dropshipping niche with less competition. Competitive products are difficult to make a success. When using ads of Google or social media platforms, it also means you need to invest more money to get exposure for products.
If you already have an ecommerce store and are familiar with target marketing, choose products by following your business ideas. Some people may want popular dropshipping niches, such as clothing. There are many target audiences and many competitors; also, the profit margin is relatively small. But as long as you have high quality products and good customer service, it can attract many clients to buy again. Other store owners may like more profitable niches, such as diving equipment. They are some customers want, but not all. Also, there are fewer competitors. So, as long as you enter into the niche, it can be your cash cow.
3. How to find products to dropship in 2021?
3.1 Online marketplaces
They can also be considered as ecommerce platforms, such as Amazon, eBay, AliExpress. After years of development, these platforms have already had a lot of users. Most of ecommerce business owners sell different types of products there. Platforms get data about best sellers and trending products. You can check them here.
3.2 Social Media
Using the hashtag to find popular drop shipping products to sell online. Social media platforms like Facebook, Instagram, TikTok have various hashtags. You can find everything related to the hashtag you enter. Its work model is a bit like a search engine. Type a product hashtag, and you will see how many posts there are on the platform. Also, on Facebook, you can search groups, check members in them and posts update frequency. Go to the discussion section and find what people like. These are real user experience and may give you the direction to find the best dropshipping products in 2021.
3.3 Competitor product research
Study your competitors carefully and copy his business model is a good idea to start. This may be the easiest way to succeed. Go to his dropshipping store and check every detail. Then you may ask, how can I do better? Not only before starting a dropship business, but you should also always keep observing the dynamics of your competitors.
First of all, what are they selling? Learn about product details and their target marketing strategy. Products on his ecommerce store are undoubtedly profitable. Find out their suppliers, product price, and shipping costs. Then, carefully read customer reviews on their online store. Because this is the only place you can know the experience of people who really buy products. You will understand what they do well, OK, learn it. Moreover, you can see where they are not doing enough. Great! Learn it, too. In fact, this is the most valuable place. You know where online business owners tend to fail. Pay attention to them will make you better.
3.4 Dropshipping product research tool
These research tools are specifically for drop shipping products. And the most well-known tool may be AliExpress dropshipping center. However, recently, AliExpress was banned in India, and this news is quickly widespread worldwide. Indians are eager to find the best AliExpress alternatives for dropshipping.
Besides, EPROLO free drop shipping platform also provides lists of Top 100 Dropship Products. You can check here.
4. How to make dropshipping products research?
After finding profitable niches, you need to check whether there are enough demands in the market. If not, even your product ideas are great and have substantial profit margins, it's obviously not a wise choice to continue.
4.1 Google trends
Go to the Google trends page, enter the product name and search. You can also set the target country or worldwide, time range, category and search type. Here, we just get the product trend of "face mask" in the United States within the past 12 months.
According to the result that Google trends shows, we know that it may not be the right choice for the long term business. Its search volume had a big breakout around April 2020, but then it dropped sharply. Some online retailer made a fortune at that time, but it didn't take long for the business to fade obviously. Of course, we all know the reason is the improvement of COVID-2019. But when will it rise again? No one knows the accurate news. In the short term, if you want to try this type of product and have the drop shipping supplier, upload them to your ecommerce store is OK.
4.2 Visit online store
Go to Amazon, eBay, or AliExpress shopping sites, find ecommerce stores that have your target products listed online. Search the product name and get all results on them. You will see those best sellers. If you want to get a successful dropship business, analyze the top 3 will be a good idea. Check their description, price point, shipping costs, customer reviews and other information. A good review is always important for all ecommerce business. It means that people are satisfied with what they bought and likely to buy again. Customer loyalty is hard to build but a powerful thing.
4.3 Google keyword planner
It's a tool in Google Ads and totally free: https://ads.google.com/home/tools/keyword-planner/. Type the keyword and get results. Also, you can set locations, language, and time range. For example, when we search "camping chair" and it shows these.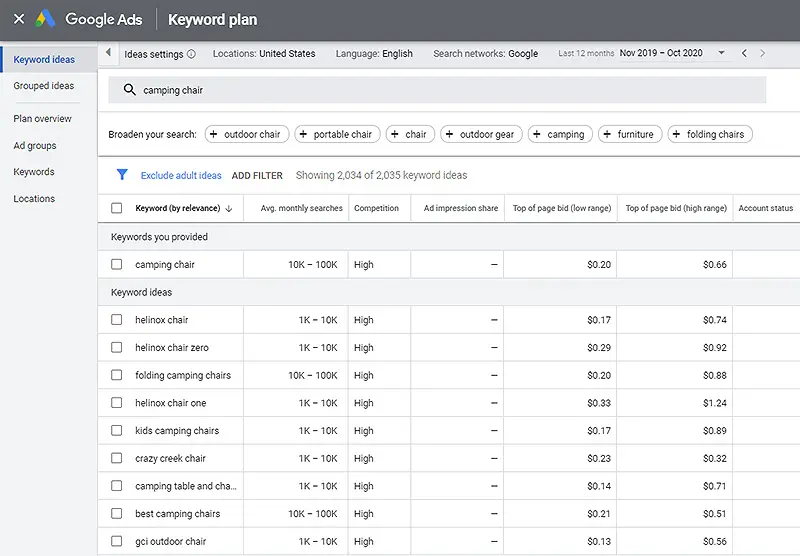 The average monthly searches are between 10k-100k, and competition is high. It means there are many competitors in the market. And if you want to make advertisements for your products, it shows the approximate range of CPC cost. Of course, 10k-100k monthly searches are high. You don't have to worry about whether people need it or not. So, don't hesitate and start your dropshipping business now.
4.4 Other tools
There are also many other keyword tools that can be used to conduct a product search. For example, ahrefs, semrush, kwfinder, ubersuggest and so on. Most of them are paid, some provide a free trial. You can check the keyword search volume, trend, difficulty, CPC cost, and SERP results with them. Compare these data among all your target products and choose the one to sell online.
5. Things after finding dropshipping products
5.1 Find dropshipping suppliers
To do a successful dropship business, the most basic thing is to find a product supplier that is worthy to trust. Because it's responsible for delivering products to your customers without passing through you. You are unable to check each package and make quality control. EPROLO is your trustworthy drop shipping partner. It provides a free dropshipping platform; shopkeepers find, choose products there and push them to store with one click. Whether Shopify dropshipping, WooCommerce dropshipping or eBay dropshipping, as long as you want, EPROLO can help.
5.2 Set the price point
After learning the product and shipping costs, add some profit margins and confirm your sales price. EPROLO purchases products from our reliable cooperation partners. They always offer us high quality products and valuable prices.
In the EPROLO platform, you can easily set your price point after calculating the product price and shipping costs. It enables you to set a profit margin, usually 30% to 50%. After that, all products listed that you import from EPROLO will use this pricing rule. Or, you can change each price manually when importing products to the dropshipping store.
5.3 Check the shipping time
On-time delivery is a vital part of customer service. Think we are going to go hiking, and then we bought a pair of hiking boots online. It arrives two months later when we almost forget about why buy it. This is really a terrible experience you will never want to have again. So, check the shipping time your dropshipping suppliers offer and decide if they will be qualified.
In the EPROLO platform, you can check the shipping methods, costs and times of each product on its description page. The most amazing, it offers a full refund if missing the delivery date (usually 30-40 days).