HelpCenter
Advice and answers from the EPROLO team
How to Create a 3D printing Product?
What products does EPROLO Print on Demand 3D Printing support?
As the name implies, EPROLO Print on Demand 3D Printing supports full printing on products, offering you a fantastic element library with free license and real-time review while designing. Clothing and shoes are the main customizable categories at present. More product categories are on the road.
Clothing:

swimming suits, shirts, T-shirts, home set, dresses, pajamas, sweaters, hoodies, jackets, shorts, tight trousers and sports clothes.

Shoes:

boots, sandals, slip-on, high tops, sports shoes and canvas shoes
…….
Now, read the article to learn how to create a 3D printing product with EPROLO Print on Demand and set up your business empire.
How to Create a 3D Printing Product? Take Men's Shirt for example
1. Pick up the product you want to customize in Products Catalog
Click "Create Products" or "Products Catalog" on the dashboard. The items of supported clothing and shoes are listed on this page. Here, we take the men's shirt as a show-how.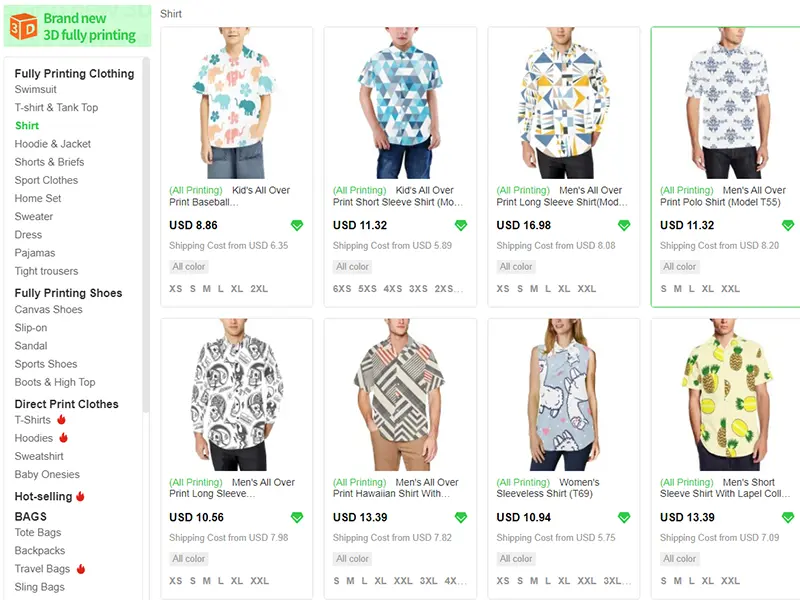 Click the men's shirt product picture, you can view the product info, such as size, color, shipping methods, cost, and description, etc.
2. Use EPROLO free elements to design, or add your picture and text
Now it's time to create your own product! Click "Start Designing" to go ahead.
The design panel contains three parts: an element area on the left for adding and choosing elements, an editing area in the middle for adjusting materials, and a review area on the right for checking real-time design effects.
You may have noticed the element library offered by EPROLO. This is where you get the solution if you have no idea. We provide a variety of high-quality elements with free license to save your bacon. These elements are rich in categories and can meet your diverse needs. Use them within one click!
3. Edit the added designs on each side with the toolkit
3D products are available to design every part of the products. In the middle area, you can see there are 8 sides of this shirt that you can customize individually: sleeves, fronts, back, collar, yolk, and buttons.
Choose the left front side of the shirt, you can edit your design with the toolkit. Features include zoom, rotate, flip, alignment, layer, copy, reset, and delete. With these tools, you are definitely a master of designing.
You can review the design effect in real-time of each part by clicking the thumbnails on the right.
This is one of the most impressive characteristics of EPROLO Print on Demand 3D Printing. Anytime you can check how your spark of inspiration demonstrates on the men's shirt.
Click here to learn more about: How to design your full printing product with powerful toolkit
4. Edit product background
It's time to make the designed shirt well-displayed. Product backgrounds edition is another amazing feature.
Check the right area and click "Edit Background" in the picture. You can select a more suitable usage scenario for this men's shirt. Outdoor and indoor backgrounds, as well as pure colors, are available to choose from. You can see the men's shirt looks more appropriate against the seaside background.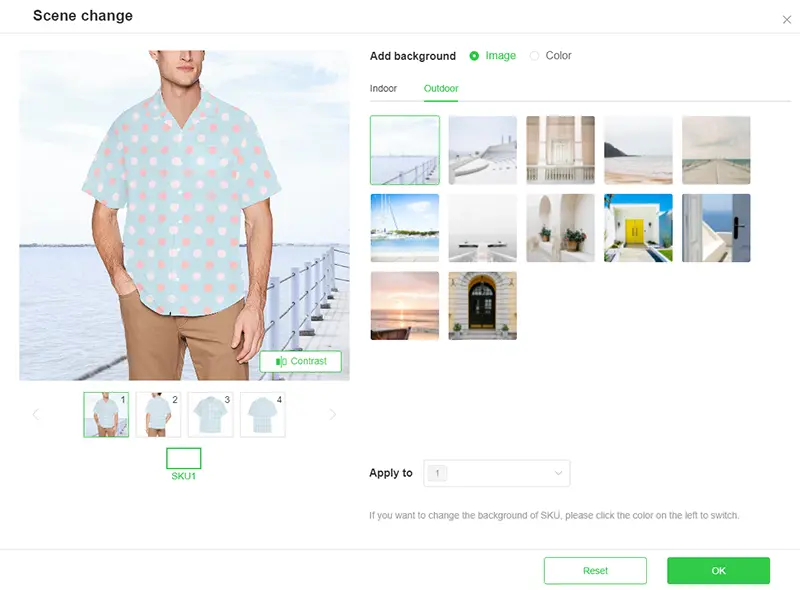 5.Create multiple SKUs for the shirt
We know different patterns mean a lot when selling custom products. EPROLO POD is here to save your workload. You can add up to 7 SKUs and one-click import them to your store. Those SKUs will be saved under the same product link.
After finishing the current design, you have two options to create multiple SKUs. Click "Next", and you can see the buttons. Choose the function you need. You're enabled to duplicate the current design or create a new one.
6.Set product prices
Click ""Design is completed, go to set the price".
Here you can see the inventory, product cost, and shipping cost of the shirt. The retail price is defaulted according to your pricing rule. You can change retail prices separately. And EPROLO will auto-calculate your profit.
Besides, the title and the description of the shirt can be edited on this page.
7. Import product to your store
After product details are all set, you can import the men's shirt to your store.
If you have not connected your store yet, please follow the steps on the pop-up or find the "Add Store" button in the right upper corner of the dashboard. After connection, you can one-click import the custom product to your store.

Now start selling and growing your business with EPROLO Print on Demand!
If you are wondering how EPROLO fulfills your orders, please check here.
If you have any questions, please contact your Account support Rep in the dashboard or send email at support@eprolo.com.