+
EPROLO eBay Dropshipping Model
How easy can it be to dropship on eBay? You will know if you try EPROLO.
EPROLO is an automated free dropshipping platform for eBay businesses and with sourcing,
branding
, fulfillment, and print on demand services all in one.
Easy and Automated eBay Dropshipping with EPROLO
We streamline the process and provide everything you need. eBay store owners can use EPROLO to sell products and fulfill orders in a few seconds. One-click import them to the eBay listing. When you get sales, the eBay orders will be synced automatically and fulfilled by the platform. More than these, you can build a brand with EPROLO. From products, fulfillment to brand building, we give all-around dropship services for your eBay online business. This is EPROLO eBay dropshipping model.
Find, source and import products
How to Dropship on eBay Free
Dropshipping on eBay requires an online store and a dropshipping supplier. The former is used for selling products and getting orders, the latter is for subsequent fulfillment.
Step 1. Create an eBay store
eBay is friendly to novice online sellers. You can get a free eBay seller account easily with an email address. Then create your store after connecting with PayPal.
The marketplace charges several sellers fees. However, selling on eBay does not cost you a lot. The store fee is the only necessary spent. You can choose from five plans. And the lowest price is $4.95.
Step 2. Find Free eBay Dropshipping Software
Benefit from the dropshipping business model, ecommerce store owners do not have to stock products. And this makes it possible to start eBay dropshipping with no money. You can work with free eBay dropshipping suppliers. Before you receive orders, you don't pay anything. Among those, EPROLO comes out on top.
EPROLO is a free eBay dropshipping software. You can register without a credit card. Then you can enjoy the free automated dropshipping services. EPROLO offers one-click product sourcing and importing, auto order fulfillment, inventory management, and delivery tracking.
Unlike other dropshipping tools, EPROLO also helps build a brand and print on demand. Custom products, labels and packages are available.
Step 3. Choose Items to Sell on eBay
You can find products from eBay dropshipping suppliers. However, not all products are allowed to sell on eBay. The marketplace has a list of restricted items. You need to check the prohibited list before adding to store.
Over 300 thousand dropshipping products are on EPROLO. First, log into EPROLO and freely access "Find products". Here, you can browse drop shipping products from 107 catalog niches. If you're looking for the best items to dropship on eBay and weekly new arrivals, EPROLO offers recommendations.
Plus, the sourcing feature can help eBay dropshippers to sell what they want. EPROLO eBay dropshipping software is available to source from AliExpress. You can submit a sourcing request directly in "Import Ali Product" with an AliExpress URL. Or use the Chrome Extension developed by the dropshipping platform. EPROLO works with reliable suppliers and sources high quality products only.
Step 4. Create eBay Listings
After selecting dropship products, you need to create a listing so that the item can show in front of eBay customers. Listing an item requires photos, product description, condition, specifics, a selling price, shipping options, payment, etc.
Creating eBay listings can take a lot of time. And it is a heavy workload to list hundreds of products manually. It's time to use eBay dropshipping software.
First, connect your eBay store with EPROLO. Find products to sell and add them to EPROLO Import List. Then, click "Push to Store" next to the product. You will see an edit window of the item. Fill in the product details according to eBay listing requirements. You can import the item to your eBay store within one click. Now you can view the listing in your online store.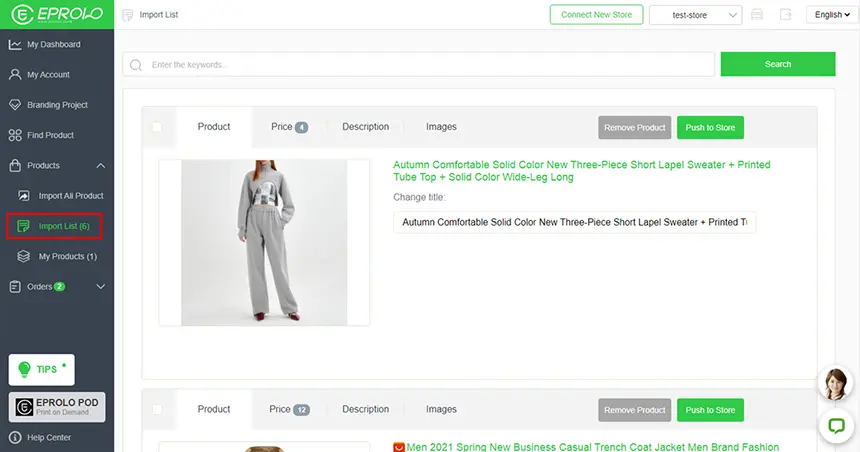 When listing items on eBay, you should weigh the selling price. An appropriate selling price is critical to earning good profits. You should calculate product costs, shipping costs, and also the eBay final value fees. EPROLO drop shipping platform displays product and shipping costs intuitively. And you can set the sale price in bulk directly in the dashboard.
Step 5. Fulfill eBay Dropshipping Orders
What to do after getting sales from eBay customers? You need to do nothing but contact your dropship supplier to fulfill orders. It is a major part of "how to dropship on eBay free." Use free eBay dropshipping software you only need to pay for the product and shipping fees. And the payment will generate after you receive the customer's order.
EPROLO automates order fulfillment for eBay sellers. When you receive orders, they will auto-sync to the dropshipping platform. You can check your eBay orders in "Orders." Next, you need to complete the payment. EPROLO will pick out the products and package them in its warehouses. Once the package is shipped, you can see the tracking number updated on the platform. Then you can track the delivery by clicking it.
Step 6. Increase sales on eBay store
Dropshipping on eBay saves online store owners a lot of work. Thus, you can just focus on store management. There are a few tips to increase sales on eBay stores. First of all, you can add new listings every day. eBay places the new listing in a more forward position. Second, you can use eBay promoted listings. It is a way that you give a percentage of the final sale to eBay and the marketplace will display your items to potential customers. Third, optimize your product listing. Using keywords in titles and product descriptions to increase traffic is a good way.
What is eBay Dropshipping? Is it legal now?
When running a dropshipping business, profit margin is the first concern. Does dropship on eBay profitable? The rising search of "eBay dropshipping" in Google tells yes. In 2021, eBay users reached 187 million. You definitely don't want to miss the giant online marketplace. Then what is eBay dropshipping?
eBay dropshipping is a mode that eBay sellers run business with dropshipping suppliers. Sellers get sales while suppliers help with fulfillment. It's a risk-free business model that online store owners do not have to keep product inventory.
Is it legal to dropship on eBay? Yes. The official website certified the answer and published an eBay dropshipping policy to explain. "Drop shipping, where you fulfill orders directly from a wholesale supplier, is allowed on eBay. However, listing an item on eBay and then purchasing the item from another retailer or marketplace that ships directly to your customer is not allowed on eBay." As the policy stated, dropshipping on eBay is allowed, eBay store owners can work with wholesale suppliers instead of retailers. And, buying items from other marketplaces is restricted. The eBay dropshipping policy also stressed the responsibility of eBay store owners. Sellers are in charge of the safe delivery and after-sales services. It means that even if the product is fulfilled by the suppliers, sellers should guarantee the delivery time and refund.
Is dropshipping on eBay worth it? What are the benefits?
This question is easy to answer. Yes, dropshipping on eBay is worth it. There are five benefits to drop ship on eBay.
1. Massive user base and traffic
How many users does the eBay marketplace have? 187 million and the number is growing! Significantly, there are over 109 million monthly unique visitors. The massive volume ensures that your potential customers will not be small numbers.
2. Mature seller protections
eBay sellers are protected by the ecommerce marketplace. It's possible that you will meet violent customers who abuse the buyer's rights. Fortunately, you can report them to eBay. And the platform will take actions such as removing bad reviews.
3. Minimal start-up costs
Get started dropshipping on ebay only requires an online store fee. And the minimum price is $ 4.95 per month. It's much lower than other ecommerce platforms like Shopify. As for fulfillment, store owners can use a free dropshipping platform. It charges nothing before getting orders from eBay customers.
4. Zero business risk
One huge advantage of dropshipping via eBay is the low risk. Because of the particularity, dropshipping model allows business owners to sell without keeping inventory. In this way, you don't have to pay a storage fee. Let alone worry about unsalable products. There is little upfront investment.
5. Less workload
Dropship suppliers participate in the partial sales process. Order fulfillment is the main part. Inventory management, packing, and shipping are relevant to it. In general, business owners are supposed to do the work. But with the supplier, sellers can enjoy hands-off dispatch of dropship products and work less.
Grow your dropshipping business today!