Does Walmart allow dropshipping? Yes! Is Walmart dropshipping worth trying? The answer is also obvious. Walmart is a marketplace with more than 410 million visits monthly. According to Statista, it ranks the third most-visited ecommerce site in the US.
Many drop shipping business owners are exploring the field. If you want to be one of them, this article can be your solution. Common questions and a complete guide to dropship on Walmart are included.
1. What is Walmart Dropshipping?
Walmart is a retail giant with a history of more than fifty years. Since the Drop Ship Vendor (DSV) program and the Walmart Shopify app launched, the dropshipping model is getting hot on the platform. Walmart allows people to become dropshipping suppliers or sellers whose products are fulfilled by third-party suppliers. Using the dropshipping model to run businesses on Walmart is called Walmart dropshipping.
2. What is Walmart Drop Ship Vendor, Walmart marketplace dropshipping, and Walmart automation dropshipping?
Walmart Drop Ship Vendor, Walmart marketplace dropshipping, and Walmart automation dropshipping are three ways that you can choose to dropship on Walmart. As for the choice, it depends on the role you want to play at Walmart.
2.1 Walmart Drop Ship Vendor
Walmart Drop Ship Vendor (DSV) is a program for merchants who want to serve as a supplier.
If you join the program, you become a part of Walmart distribution. You supply and Walmart sells dropshipped products. When orders come in, you will receive the orders from Walmart and need to fulfill orders accordingly. You can ship products to a Walmart warehouse or directly to customers. If your goods are delivered to Walmart warehouse in advance, when customers buy them, Walmart offers free shipping.
How do you become a Walmart dropshipper?
The Walmart Drop Ship Vendor program is not for everyone. It is open to suppliers who have high-volume order processing capacity and operate warehouses themselves. Moreover, you have to be invited by a Walmart Category Specialist. And you need to meet the requirements of the Walmart supplier checklist.
2.2 Walmart Marketplace Dropshipping
Walmart marketplace dropshipping is that you enter the platform as a seller and sell on walmart marketplace.
After register a Walmart seller account and finish the onboarding process, you are able to sell products on this online marketplace. You can run your online Walmart store partnering with dropshipping suppliers. If a customer places an order, you need to send the order info to your supplier. Then the supplier will ship products to the customer and fulfill orders.
Please note that if you've applied to be a DSV, you can also be an online marketplace seller on Walmart. But you cannot sell the same item by using both accounts.
2.3 Walmart Automation Dropshipping
Walmart automation dropshipping is a way that you sell dropshipping products to Walmart customers by using third-party software to help with automated online store management. After installing the software, you can upload and optimize your product listings, auto-update inventory, automate order fulfillment, etc. So, you can easily use the retail arbitrage method and resell Walmart products on Amazon, eBay or other online marketplaces.
3. How to Start Walmart Dropshipping?
Stating on its official website, Walmart is the largest retailer in the world. There are more than 10 thousand stores on the platform and attract 265 million customers every week.
You do not want to miss the sale opportunity presumably. Then, how can you catch it? This section will guide you to start dropshipping on Walmart. Let's continue!
3.1 Find Dropshipping Suppliers and Products
You'd better find a fast shipping supplier and dropshipped products first. Why? That is because you need the product info to complete Walmart marketplace seller registration.
There are many methods to find a supplier for Walmart dropshipping. Searching on Google is the most efficient way. Use keywords 'dropshipping supplier' and you can get a lot of results. Ads and blogs are helpful. You can evaluate the strengths and weaknesses of a certain supplier, especially the worldwide shipping time. Then you can compare their customer services and pricing to find a suitable one. Besides, you can make good use of the Shopify app store. There are massive dropshipping apps on the page. And due to the integration of Shopify and Walmart, these apps can be used for Walmart sales. Finding dropshipping suppliers on Shopify is beneficial. Because you can check the reviews of those apps. In this way, you can pick up a trustworthy one.
As to find dropshipping products, you can browse the best-sellers of Amazon, AliExpress and eBay for reference. The comment number is an important indicator. If you have some specific ideas about Walmart products, you can use Google Trends to help. Search by the product keywords and you can see the popularity. Using social media is also a good way. You can take the number of related posts and trending hashtags into account. Or you can join a Facebook group and other communities to get inspired.
3.2 Signup Walmart Seller Account
After selecting dropshipping suppliers and products, now you can focus on the entry of Walmart. Walmart charges nothing for a seller account. It is very attractive to dropshipping beginners. However, Walmart has strict control over registration. You need to get approval so you can create a seller account.
So how can you submit the request and get accepted? First, go to the Walmart Marketplace. You can see a 'Request to sell' button in the top right-hand corner. Click it and you will jump to the application page. Walmart requires you to provide the following information: US Business Tax ID; W9/W8 and EIN Verification Letter; US business address; main product categories, catalog size, and related information. The whole process could take about 15 mins. And to avoid web page crashes, you'd better use Google Chrome to apply.
When your application is approved, you will receive an email with your Walmart seller account. Next, you need to complete your registration via the invitation URL.
3.3 Set Up Seller Profile
Signup for the seller account, then you can manage your seller profile. Go to the Launch Checklist and fill in the info. In this part, you need to provide details such as company display name, a logo, description, customer service policy, contacts (e.g. item content, shipping), return rules, tax policy, and others.
Order testing is an important part to dropship on Walmart. When you finish the profile, you can place a test order to see if everything goes well.
3.4 Create Product Listing to Sell
Walmart has no limits to SKU minimums or maximums. You can list all your product categories and items. But you should note that some are not allowed to sell in Walmart. Products like alcohol, live animals, food, and tobacco products are prohibited. You can check the Prohibited Products Policy for more details.
To sell dropshipped products on Walmart, you need to create a products list. And the following info is required for every product listing: name, description, image, variant, manufacturer, and others. You have four options to set up the item listing – bulk upload by Excel, add single item in Seller Center, the Walmart Marketplace API, and a third-party Walmart partner. Don't forget to optimize your product listings.
The bulk upload method is suitable for sellers who have a small item catalog. You can download the Full Item Spec and fill in the product info. Then upload the file. You can see your items in the Feed Status dashboard.
The single item method is designed for beginners who set up their item listing for the first time. Sellers can add a single item in the dashboard of Manage Items and Item Setup & Maintenance.
API integration is a stable method for a large catalog. Using Walmart Marketplace API you can submit, update, and off-shelf items, update product prices and inventory, and manage orders. First, get your API Key and Consumer ID in the seller center. After you generate your credentials, you can build and test the code.
If you want to use a third-party partner, you can check the company in Walmart Solution Providers. Walmart has divided the solution providers into full-service solution and specialty solution. With the support of the partner, you can manage your products list and run the business more efficiently.
You can start selling dropshipped products after the item listing goes live.
3.5 Order Fulfillment
Suppliers help with order fulfillment whether you are running Walmart automation dropshipping or marketplace dropshipping businesses. Here, we take EPROLO as an example for Walmart orders fulfillment.
EPROLO is a free e-commerce platform for dropshipping order fulfillment, product sourcing, and branding. It supports multiple online stores including Walmart and Shopify.
When you get orders in Walmart, you can check them in the Order Management. Click 'Purchase Order #' to see order details. Then mark the order status as 'Acknowledge'. This operation is to tell Walmart that you have received the order.
Next, you need to send your orders to EPROLO. Follow the steps of how to use EPROLO to fulfill Walmart orders.
1) Create an EPROLO account
You can use an email address to register EPROLO. The registration is simply for there's no credit card required.
2) Upload Walmart orders to EPROLO
Log in to EPROLO and go to Orders > Import Orders. Then create your Walmart products by filling in the name, product URL, and images. You can view the item in Products>My Products. Open the item page and copy the 'Imported ID'. Next, go back to Import Orders and download the order template excel sheet. You need to fill in the order details and the Imported ID. When you complete the file, upload it to the current page. Now you can check your Walmart orders in 'Eprolo Orders'.
3) Get for quote
Click the live chat button in the lower right corner. You can submit a quotation request to the support agent. And EPROLO will quote the product for you.
4) Pay orders
The product price will show after quoting. Then you can pay the order in 'Eprolo Orders'. After you pay, EPORLO will source and ship the product to your customer.
Order fulfillment for Shopify Walmart dropshipping
This is another way to fulfill Walmart orders if you're running dropshipping businesses on Walmart and Shopify.
Walmart Shopify app is free to install. It can be used as a sale channel for your Shopify store. After the installation, you can connect the existing item listing on Walmart to Shopify. Item inventory, pricing, and order info will also sync from Walmart to Shopify.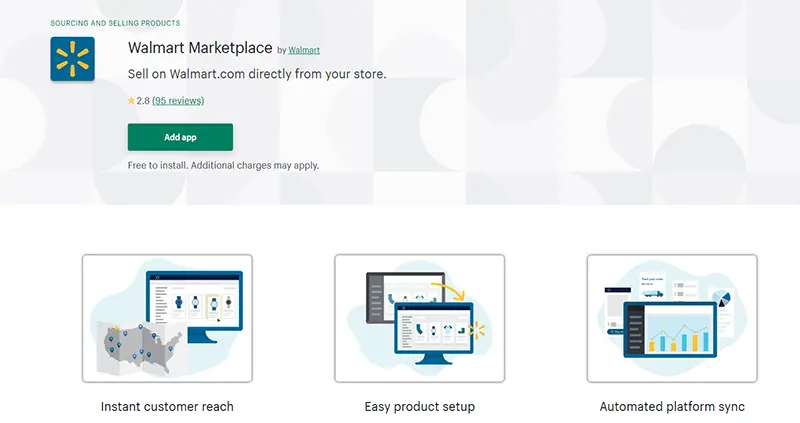 As a Shopify dropshipping app, EPROLO is available to fulfill Walmart orders from Shopify.
When you get orders on Walmarts, they will sync to Shopify. You can view the orders in the Shopify Orders dashboard. Then you can import the Walmart Shopify orders to EPROLO. Copy the order ID and paste it in Eprolo Orders > Import Store Order. Click 'Import or Submit Sourcing' and the order info will show in EPROLO. Then proceed with the payment as you deal with other orders.
3.6 Shipment Tracking
EPROLO will update the tracking num once the package is shipped. You can check it in Eprolo Orders. Then you can copy it and paste it to Walmart Order Management.