+
If you want to start a dropshipping business and have autonomy over it, WooCommerce dropshipping will be your best choice. EPROLO provides a lifelong free WooCommerce dropshipping plugin that meets your demands from purchasing, warehousing, supplying, packaging to shipping.
1. Building a WooCommerce store
Before selling products to customers, the first thing you need to do for starting a dropshipping business model is building an online store.
WordPress is an open source content management system. You can build a WooCommerce store with it freely.
1.1 Select a domain
The first thing is buying a domain. If you want to build a brand, use the brand name as the domain prefix. Then buy the domain on WordPress hosting companies like SiteGround, Bluehost, and so on. For the beginner, they are friendly from price and user experience.
1.2 Buy web host
Many hosting companies are integrated with WordPress. And only buy a StartUp WordPress hosting plan ($6.99/month), you can freely install and migrate WordPress website. It provides free SSL, free CDN, free Email and daily backup. Even if you make mistakes in your operation and the WordPress website goes down, don't worry because there is a backup.
1.3 Install WordPress and WooCommerce plugin
After buying the web host, you can install WordPress and build your own eCommerce store now. Go to the WordPress dashboard, click plugin, search WooCommerce, install and activate it. Then, you can add product page, set product images and descriptions. WooCommerce is a powerful free WordPress plugin. It can meet almost all your demands as an eCommerce store owner. For example, choose how you want to get paid. The installed WooCommerce plugin supports credit card, bank transfer, mobile wallets and cash thanks to 100+ payment gateways. Also, it can configure shipping options, simplify sales tax and so on.
2. Installing WooCommerce dropshipping plugins to your online store
In fact, after you have installed WooCommerce plugin for WordPress and activated it, you can go to the WordPress dashboard and add product page. But there are many details that need to be filled in manually, such as title, description, product images, price, etc. For the eCommerce store, which has thousands of products, it will be pretty tedious. EPROLO WooCommerce dropshipping plugin solves this problem perfectly for you.
Go to the WordPress dashboard, click "plugin", "add new", and search "EPROLO dropshipping". Then, you can see our free WooCommerce dropshipping plugin for WordPress. Click "install now" and activate it.
If you don't have an EPROLO account, click "Connect to EPROLO" and authorize it. After successfully connecting your WooCommerce store with EPROLO, you can go to our dropshipping platform and add products to your store.
3. Importing products from AliExpress or EPROLO
EPROLO is a free dropshipping platform that enables you to import products from AliExpress and EPROLO. Since 2011, we have established a strong and reliable relationship with thousands of suppliers. There are millions of products you can choose to drop ship on our platform.
Go to the EPROLO dropshipping App dashboard, and find products. If you don't have any target, look through our top 100 drop ship products and weekly new products. You may find the trending and start your WordPress dropshipping business. If you have any target, search the related keywords, discover and add them to the import list. Then, check the boxes of products you want and add them to WooCommerce dropshipping stores. Even though you don't find what you want on our platform, don't worry. We have a team for purchasing products from our partners and another team with over ten years of sourcing experience. They are always ready to provide help in sourcing products.
In addition, we have developed a Google Chrome extension named EPROLO – AliExpress product importer. It can help to import products from AliExpress. At first, install the Google Chrome extension, register an EPROLO account and login. Next, look through and find products from AliExpress dropshipping suppliers. Click the EPROLO icon and import the product to our platform. You will find them in your import list. Change the product details if needed, like title, description, price, and product images. Finally, check the boxes of products you want and push them to your dropshipping store.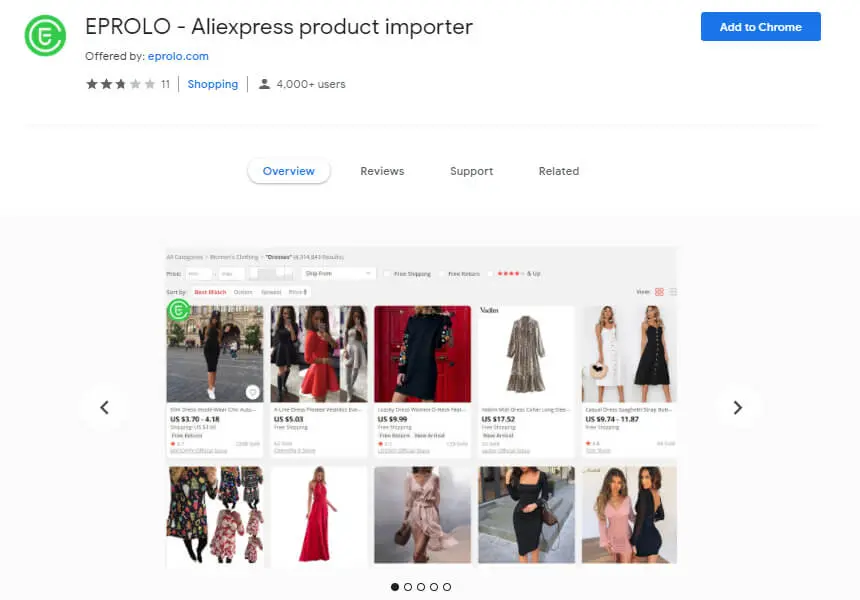 After importing products to your store, it's time for marketing. The benefit of starting a dropshipping business model is that you focus on selling products and store management. And we free dropshipping suppliers provide one-stop solution including not only sourcing products, but also storing, supplying, packing, and delivering goods. All is ready, just waiting for email notifications of orders.
5. Placing orders from EPROLO
Congratulations! Your WordPress dropshipping store receives orders from customers. Order notifications are sent to your email address. If you use EPROLO to import products, now all your orders are synchronized to the platform. There is no need to organize order details and make a CSV file; purchasing dropshipping products becomes easy. Check the boxes of orders that you need us to fulfill and pay for them(PayPal and Credit Card are accepted). We will receive order notifications with all your order details and make the fulfillment for you.
EPROLO can help to build your brand. While placing orders, write a remark about whether you need customized scotch tape, stickers, or packaging boxes. We will never make any packing slips, invoices, external packaging and other information identifying your WooCommerce dropshipping stores a third party.
6. Shipping from EPROLO warehouse
After receiving your order details, we will arrange shipping. Unlike AliExpress dropshipping platform where you may need to contact different suppliers for different orders, EPROLO is responsible for the whole fulfillment. All your purchased products are delivered from our warehouse. EPROLO enables you to choose the shipping method from US Express, AU Express, CA Express, UK Express, ePacket and Postal Delivery. When purchased products are shipped to customers, your email address will receive a mail. Meanwhile, the order status will be changed to Shipped with a tracking number. You can check the shipping status of the package in 24-48 hours.
Grow your dropshipping business today!