HelpCenter
Advice and answers from the EPROLO team
How to process and fulfill an order?
When you have made a sale, follow these steps:
1. Click on Orders, Go to the Orders page in our App
2. Find the order you need us to fulfill and have it shipped.

3.Select the order and click Paypal button to pay for the order.
We can only accept Paypal and Credit Card payment.
(Note: We will choose the best shipping method for you based on your requirements.)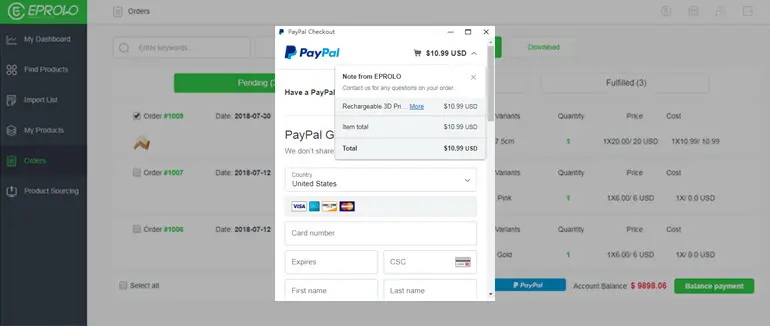 4.When you finished the payment, we will process the order in 2-3 business days and ship it to your customer. Meanwhile, the order status will be changed to Shipped with a tracking number.
(The tracking number will be automatically synced to your Shopify store.)
Note: The tracking number can also be tracable online in 24-48 hours.
You can click on the tracking number to see real time data for delivery information.
How to import store orders to EPROLO?
Step1: Find your order number on Shopify as the picture below. Copy the number in the link.
Step2: Paste it to the EPROLO order page.